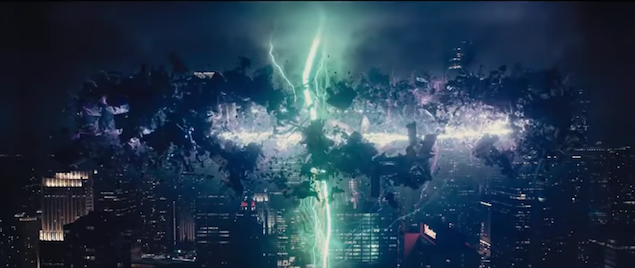 Do Heroes Fight Skybeams? (Accidental Minor Spoilers for Spider-Man: Homecoming)
Do Heroes Fight Skybeams? (Accidental Minor Spoilers for Spider-Man: Homecoming)
Last week I shared some thoughts on the latest installment of the DCEU, Wonder Woman. I tried to stay focused on that film, but found myself floundering around with broader thoughts concerning superheroes in cinema. A friend and I were discussing Wonder Woman and he suggested that (spoiler ahead!) the scene of Diana courageously crossing No Man's Land was the most heroic moment in a superhero movie since Tobey Maguire's Spider-Man was willing to remain maskless in front of dozen of onlookers in order to save their train car from disaster.
http://https://www.youtube.com/watch?v=yRhRZB-nqOU
In light of our conversation, I have been pondering this question: When was the last time a key moment in a superhero film revolved around the hero saving someone in an act of heroism? I'm not asking about pieces of dialogue where characters plan to evacuate bystanders or brief clips of people being pulled from danger. I'm asking about scenes that portray the heroism of the character, scenes that display courage or sacrifice.
Frankly, I can't think of any such scenes that have occurred in any recent film in the Marvel Cinematic Universe. Many of those films revolve around some larger conspiracy or larger-than-life foe. Captain America: Winter Soldier and Captain America: Civil War, while MCU high points, are more concerned with internal conflicts within the superhuman community. Would it be so bad to see The Vision get a cat out of a tree (which could be both endearing and hilarious!) or watch Bruce Banner serve in a local free clinic as he steps back from the life of an Avenger? Batman hasn't stopped a mugger since Batman Begins in 2005. Say what you will about Bryan Singer's
Superman Returns.  Brandon Routh's Kal-El is in the business of helping people.
Why have we as the audience traded heroism for the sky beams? It appears that studios believe we desire for higher powers like the Avengers or Justice League to confront insurmountable alien forces rather than reflect what courage, conviction, and compassion look like in the streets. The Avengers team rarely interacts with regular civilians in any substantial fashion.  Instead, foes and threats remain abstract to such an extent that they're not even allegorical or symbolic for real world conflicts and tragedies.
I thought this post would largely be about my disappointment over this trend in the Marvel Cinematic Universe. However, over the weekend I saw Spiderman: Homecoming. (Surprise Minor Spoilers!) If you saw Captain America: Civil War, you know that that was Spidey's first appearance in the MCU. This next MCU installment follows Peter Parker as he fights street crime in the snazzy Stark-spider suit given to him in Civil War. He desires desperately to be an Avenger and to take his fight beyond the streets of New York City (and mostly Queens). The film's big baddy, played by Michael Keaton, who makes his money selling alien technology left over from the wreckage of the alien attack on NYC (in the first Avengers film). Keaton plays the Spidey villain, Vulture. I could write a post just on Vulture and his relationship with Spider-Man throughout the film It's fascinating.
As I mentioned, Spider-Man wants to be an Avenger. He spends his after school time at his "Stark internship," where he saves cats, helps old ladies, and thwarts bicycle thieves (sorta). At the end of each day, he leaves a voice message for Happy Hogan (so cool to see Jon Favreau again) which recaps all his activities and asking when he can speak with Tony Stark again.
Yet, by the film's conclusion (spoilers) Peter Parker decides to remain "Your friendly neighborhood Spider-Man." The events of the
film and the parallels between Vulture and Spidey convince Parker that he is needed in the neighborhood. This is in stark contrast to whatever larger-than-life conflict the Avengers are wrapped up in. Although Spider-Man will enter cosmic-grade warfare in Avengers: Infinity War, for the moment Spider-Man chooses to be the local hero. While giving an elderly woman directions and being awarded with a churro isn't exactly the action of blockbuster cinema, there is a groundedness to this hero that much of the MCU and DCEU lack. Spider-Man's The Vulture and Wonder Woman's Ares are foes that embody familiar realities. The Vulture is a villain born out of economic hardship.  Ares incites the chaos of war.  Both economic hardship and pervasive war are the subject of daily news headlines. Whether it be the Chitauri of The Avengers, or Ultron in its sequel (not to mention whatever Lex Luthor is doing in Batman v Superman), there is little to nothing these threats that make our heart ache for justice. By the end of Spider-Man: Homecoming, I was even aching for justice and mercy for Keaton's Vulture.
Why do our superhero movies so regularly lack heroism, compassion, and a human connection? Wonder Woman's exposed sprint to draw enemy fire in No Man's Land is an act that inspires the enlisted soldiers to storm enemy lines. Tom Holland's Spidey is a beat cop of sorts, who also performs even the most menial of favors. How do our movies define the word "hero?" Is the servant leader such a far-gone concept in our popular culture that our heroes can only be known as they fight large, structural oppression? Not only that, these structural oppressions in the MCU are a conspiracy of some hidden evil, and make light of the structural oppression that does exist.
Perhaps Tony Stark's admonishment to Peter Parker "to stay close to the ground" reflects his own regret at not focusing his justice at the grass roots (in light of the events of Avengers: Age of Ultron and
Captain America: Civil War). While such a pivot would be fascinating and likely welcomed by film goers in the MCU, a conflict on the scale that is promised by Avengers: Infinity War brings little promise of that.
What kind of heroes do we desire? If we want to define heroes strictly in a mythological sense, god-like beings alone fit the bill. But if we want heroes that truly inspire us to live for others, then our heroes must defined by actions of selflessness and mercy. So far Wonder Woman and Spider-Man are the heroes that do just that.